Every so often, we come across a student-athlete from Zimbabwe, who has made the transition to college in the U.S., and not only assimilates, but excels. One student who is continually on our radar since he made his college debut playing for University of Virginia, D1 men's soccer team is Cabrel Happi. Only one season into his collegiate athletic career, Cabrel is the current team leader with 5 goals and 1 assist and has been awarded All ACC Freshman Team accolades. To put this in perspective, Happi has emerged one of the leaders of a collegiate team that is ranked 3rd this season and pegged 10th entering the NCAA tournament nationally. Cabrel attended St. George's College in Harare before doing a PG year at Deerfield Academy.
Naturally we wanted to find out more about how Cabrel is settling in at the University of Virginia and we asked him to share some thoughts on how his transition to the US has been so far.
EM: Tell us briefly about your journey to the US, how did you end up at Virginia!?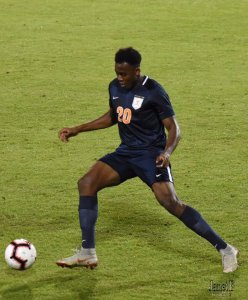 "Now that I look at it, my journey to the U.S, was longer than I thought. From talks about me leaving at the end of my O levels to not leaving at all. It was up and down because of my desire to "go pro". Eventually towards third quarter of last year an alum from my old school let me know of an opportunity to go to a New England boarding school named Deerfield which is one of the most prestigious high schools in the country. I was to go and take a PG year which is an extra year of high school mainly for athletes so they can be recruited into a top university team. And from there the gruesome college recruitment process began. But it was easier because I was in the U.S., coaches could compare me to the same kids they would be recruiting from here. And it was easier for them to fly out and see me. Also academically they were able to see where I stand and so on."
EM: What are some of the misconceptions you had in Zimbabwe about playing soccer/sport in the U.S. ?
"Prior to coming to America I thought it would be the end of my dream to go pro. It wasn't until I came here that I realized the amazing opportunity God had given me. Because all the facilities were state-of-the-art-not only here at the University of Virginia but even at my high school Deerfield Academy. I was surprised that the professionalism and competition at a D1 level here was similar to the pro teams I went on trial with, if not better. Now my dream of going pro is closer than it's ever been and everyone here wants my success. If you put in the work you will reap the results."
EM: What advice would you give to any potential student-athletes looking to study and play sport in the US?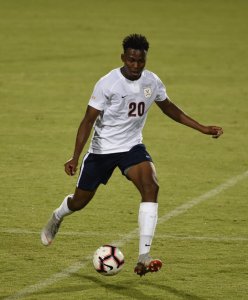 "I would recommend that the student athletes begin the recruiting process early and learn to manage both school and sport as the balance only gets tougher when you get to college as you are pressured for time. Also I would say put in time in your craft -learn it and master it because that's your secret weapon. Also I would recommend that you build social skills so you can build relationships with teachers and coaches and friends that will all help you be as successful as a student athlete."
EM: You are in your first year at college now as a student-athlete.  Please share some of your goals, aspirations and what what a typical day looks like for you now.
"My goal is to go pro after graduation, and I am working hard towards it. It's not easy especially my transition to college sports where my day begins at 6am with rehab and functional movements till 7 and film till 8, practice till 11 and classes from 12 to 4.30pm, then homework from 7pm onwards. It took time to manage this busy schedule but I finally think I am getting the hang of things and ready to put in the extra work to be where I need to be.  Honestly, I have the opportunity of a lifetime to fulfill my dream. I am at a great school with people all doing their best for me to succeed. In my eyes I couldn't have made a better decision."
Cabrel has been having a stellar season so far, but all of his success is not to be overshadowed by his hard work, discipline and commitment that make it all possible. Before he was able to play for his Virginia coaches Cabrel wasn't able to play competitive soccer for over 6 months in line with NCAA amateurism stipulations. "The transition coming to American was hard at the beginning," he said, "because obviously if you don't play for six months, you're a bit rusty and you're still trying to get back in shape. I knew where I was beforehand, and then not being at that level was really tough. But I had so much support from all the coaches. They believed in me and they knew what I was capable of." (Virginiasports.com) Happi was able to allay any doubts that his coaches had in his ability to perform and has never looked back since. We continue to watch him thrive in a great soccer program where he is able to pursue his degree in Kinesiology and Sport Science. We wish him all the best as he continues to make Zimbabwe proud and inspire the next generation of athletes!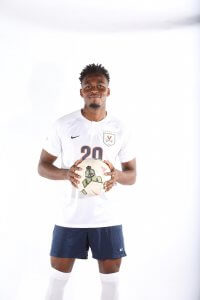 You can read more about Cabrel and his immediate impact at UVA  here.
To follow Happi on his journey on social media , find him on Instagram at cabrel_s.o.g and on Twitter @CabrelHappi10 .
To join the Education Matters' Student Athlete Cohort, apply here.