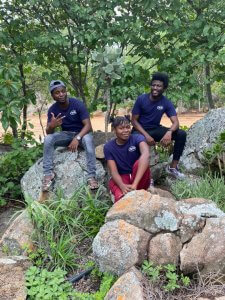 TWEENS (Together We Educationally Empower Non-privileged Students) is a peer tutoring program run by and benefiting young refugee students at the Tongogara Refugee Camp in Zimbabwe. In March 2020, during the first Zimbabwean lockdown, TWEENS began as a service learning project initiated by four Ordinary-level and one Advanced-level refugee
graduate. 
In 2021, 88 students are being provided TWEENS tutoring lessons, 58 are offered "in person" lessons and 30 are receiving "online" lessons via WhatsApp given COVID protocols and restrictions in Tongogara Refugee Camp. Each tutee is offered three in person lessons per week in addition to daily online lessons. Overall, TWEENS offers different activities with the aim of encouraging education which benefits 720 youth in the camp. Apart from tutoring, TWEENS also functions as a clearinghouse of scholarship information, organizes and facilitates awareness campaigns on COVID19, carries out door-to-door visits to tutees, and gives motivational speeches at the school and during food distribution, all with a thrust on education.
Mission
Promote education in Tongogara Refugee Camp.
Aims
Increase the pass rate of refugee students at the 'O' Level national exams
Reduce the incidents of school dropouts
Raise awareness for educational opportunities
Provide alternative ways to continue education to youth who have lost hope