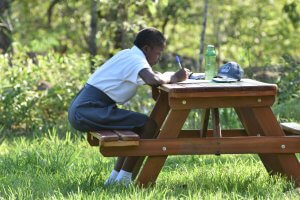 The USAP Community School is a residential 11th and 12th grade (A Level) school that educates high-achieving, low-income Zimbabwean students to excel at the world's top universities and return home to build society. Our vision is to be a global leader in transformative education exclusively for low-income students, sustained by their own success through alumni support.
Education Matters' USAP program has been assisting high-achieving, low-income students to access university education internationally for 20 years. As our program evolved, we realized that our students, though bright and determined, are receiving a narrowly-focused education that is not adequately preparing them to tackle the complex problems of our society. Although they were excelling on O and A level exams, their reading, writing, computer, research and critical thinking skills were lacking.
The USAP Community School opened in 2020 and provides a transformative model of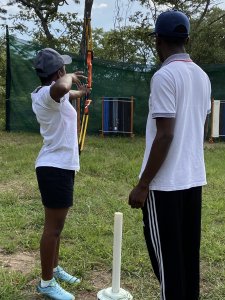 education to bridge the gaps we had identified. The two year residential model immerses students in a highly-engaged and demanding curriculum that builds their skill levels, nurtures their creativity and allows them to question and explore learning Students will emerge well prepared to take advantage of the opportunities that top international university education presents.
The USAP Community School aims to support young people who are thinking through how to address challenges in Zimbabwe, to start thinking about how to come home to build society before they ever leave. We believe the combination of a strong skillset and entrepreneurial attitude, the grounding of a dynamic and thoughtful Zimbabwean academic community and the exposure of an overseas education will lead to young people who have the potential to make a tremendous impact on the African Continent in the future.
Our first two classes of students have excelled at AS and A level and within our school curriulum and have gone on to be accepted and funded to attend highly-selective universities in Ghana, India, Kenya, Rwanda and the United States including Ashesi, USIU, Ashoka, Harvard, MIT, Brown, Pomona, Williams, Northwestern, Vassar, Stanford, Davidson, Dartmouth, Smith and Barnard.
For more information on recent USAP Community School updates visit the USAPCS Newsletters page.
Applications for January 2024 can be accessed on this link and are due by September 22, 2023.