AFS Intercultural Programs is an international, voluntary, non-governmental, non-profit organization that provides intercultural learning opportunities to help people develop the knowledge, skills and understanding needed to create a more just and peaceful world.
AFS and Education Matters began collaborating on activities that promote intercultural learning opportunities and youth empowerment in Zimbabwe effective as of 15 June 2023. In Zimbabwe, through Education Matters, AFS is developing active global citizens determined to make the world a better place. Their study abroad programs empower young people from all backgrounds with essential global skills—and the passion for making a difference. Young people from all backgrounds, through AFS programs, will be empowered with essential global skills—and the passion for making a difference.
Education Matters will promote the following AFS activities in Zimbabwe;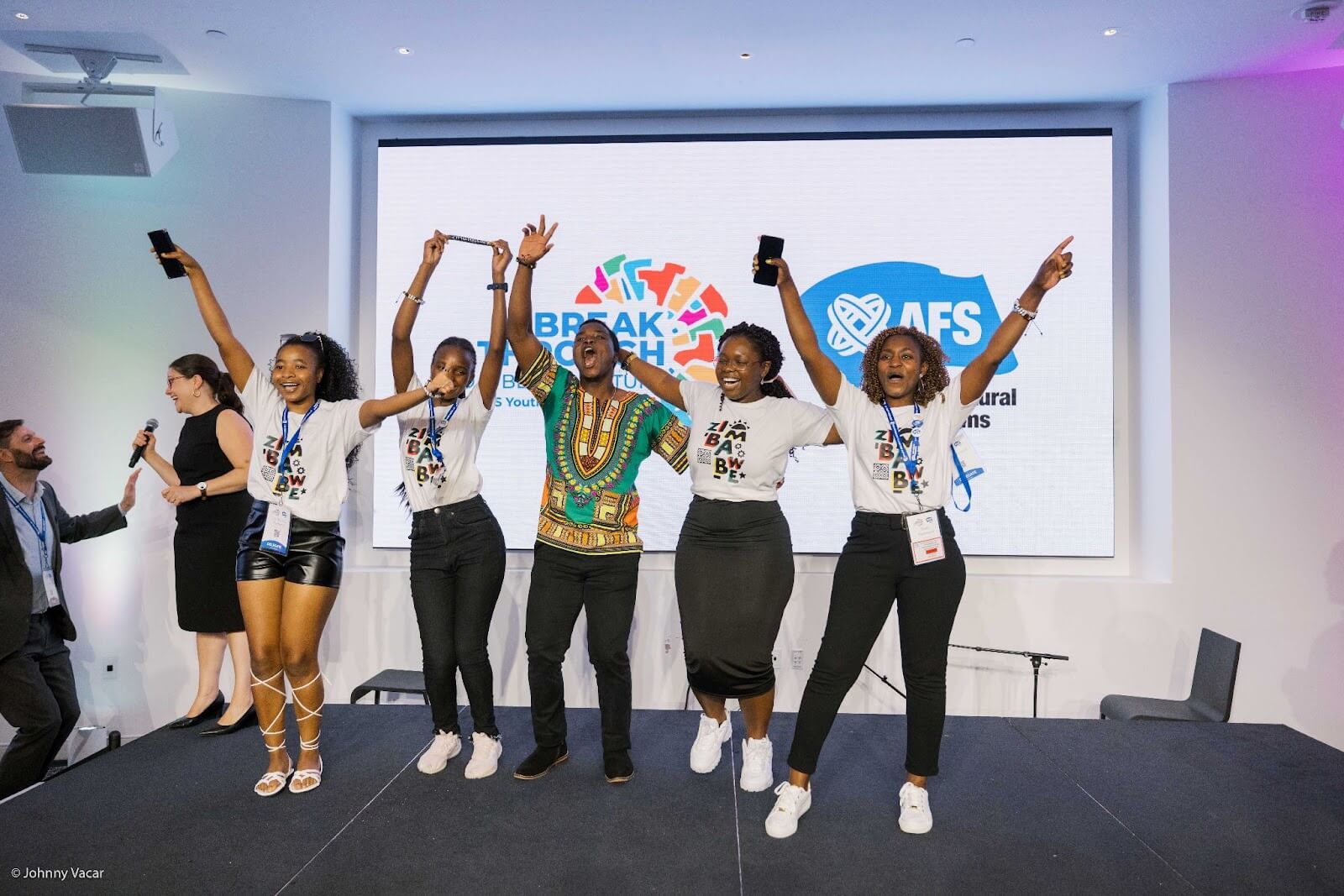 The Youth Assembly is a global platform that cultivates an international network of young leaders and changemakers through exchange, education, action and impact. This event empowers young leaders to:
Connect with like-minded peers, trailblazers, and influencers,
Develop global competence and critical skills, and
Transform your vision for a better future into action.
Applications for the 29th Session of the AFS Youth Assembly are now open. The event will take place in New York City, on August 16-18, 2024 under the theme Forge Our Shared Future. To apply as an individual, apply on here.

To apply through Education Matters to join the Zimbabwe delegation, apply on here before December 4th, 2023.
AFS Global Stem Accelerator Program
An extraordinary, full scholarship program for girls who are active global citizens and energized to help solve some of today's biggest global challenges.
Applications open in February 2024.
AFS Effect Plus for the classroom
AFS Effect+ Program is a hands-on learning program that introduces students to the United Nations Sustainable Development Goals (SDGs) and how to work together to help advance these goals in their communities. The current AFS Effect+ versions available include workshops for teens led by AFS facilitators and a fully free Classroom Edition of the Program for high-school teachers, which includes capacity-building and a toolkit with resources for teaching Active Global Citizenship & the SDGs for high school students.
Cyril Taylor Young Leaders Awards
Educators who participated in the AFS Effect Plus for the classroom will be invited to submit student projects for the 2023 Sir Cyril Taylor Young Leaders Award, which provides international recognition for a social impact project on the UN Sustainable Development Goals (SDGs) developed in their classrooms. The Sir Cyril Taylor Young Leaders Awards will recognize the top social impact projects created by the students and teachers that participate in the AFS Effect Plus for the classroom.
Qualified Facilitators of the Global Competence Certificate facilitate global competence learning for students, staff or faculty at your institution or organization.
POTENTIAL ADDITIONAL AREAS FOR COLLABORATION
AFS High School Study Abroad programs & Virtual Exchange Programs
AFS offers High School Study Abroad Programs that allow 14 to 18 year olds, curious adventurers who want to create change in the world, to study at a high school in a new country for an academic year, semester, or trimester. These young people will have the opportunity to make new friends, learn a new language, live with a Global Family, and become an Active Global Citizen. The program focuses on personal growth, cultural exploration, active global citizenship, and belonging. Students can choose from over 50 different destinations.
AFS also offers Virtual Exchange Programs such as AFS Global You Adventurer. These programs enable young people to explore the world from home, build global skills, become an Active Global Citizen, and meet and make new friends along the way.
Global Up programs have been designed by AFS as a special learning and development opportunity for adults around the world. This award-winning virtual exchange program gives young adults and professionals across fields the skills and knowledge to succeed in a globalized world. Global Up offers a unique opportunity for professional development, networking with international educators and professionals, and becoming an active global citizen.
Contact us to speak with an AFS/ Education Matters Zimbabwe Representative, call +263 784642786 or +263 787191658. You can find us at No. 23 Connaught Road, Avondale, Harare, Zimbabwe. E-mail: betty@edmattersafrica.org.