Four USAP alum and one spouse of an alum ran in the Philadelphia Marathon this past weekend to raise funds to cover the admission and enrollment costs for students in the current USAP cohort.  #USAPruns raised $3744 in donations to cover SAT registration fees, immunizations, visa fees and air tickets for high-achieving, low-income students from Zimbabwe and Malawi hoping to start their studies in 2019.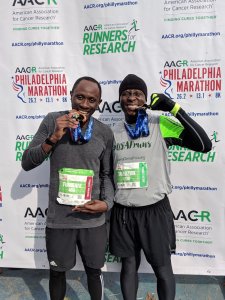 Fumba Chibaka (Gettysburg) from USAP Malawi, and Dr. Tafadzwa Muguwe (Swarthmore, Oxford, Harvard Med School) completed the 42k marathon on Sunday.    Dynamic duo Kuzivakwashe Nyadzayo (University of Pennsylvania-Wharton) and Audrey Nyadzayo (Illinois College) together with David "Dhiva" Tswamuno (Middlebury) ran the 21k on Saturday.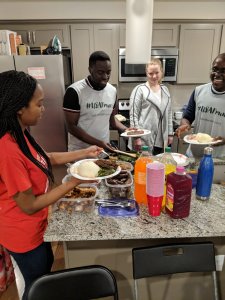 USAP students and alumni based in Philadelphia gathered on Saturday night for a carbo-loading sadza dinner to support the athletes at the home of Mitchelle Matesva (University of Pennsylvania).
Dr. Muguwe summed up the feeling of the runners: "The weekend in Philadelphia was a celebration of so many things, including formation of new connections across USAP generations, reunion of old friends, completion of personal goals, and the generosity of many that enabled us to exceed our fundraising targets. Thanks to everyone who contributed to making this event a success!"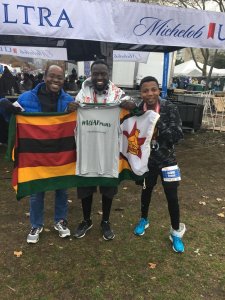 #USAPruns will continue with more runs in the future, with current plans being to field a team in the Victoria Falls Marathon in July 2019.  So put on your running shoes, start your workouts and plan to join us!  As runner David Tswamuno says "Go-go-go!"