Proud to be the sons and daughters of the soil, the pride of Africans of USAP Community School gathered for a rich African breakfast. Joined by people from all walks of life, American delegates born African, and "presidents" from all corners of the continent, there was no better way to satisfy their stomachs than with the sweetest of potatoes, mbambaira, imbambayila. Indeed the best way to a man's heart is through his stomach, and so we reached the heart of Africa.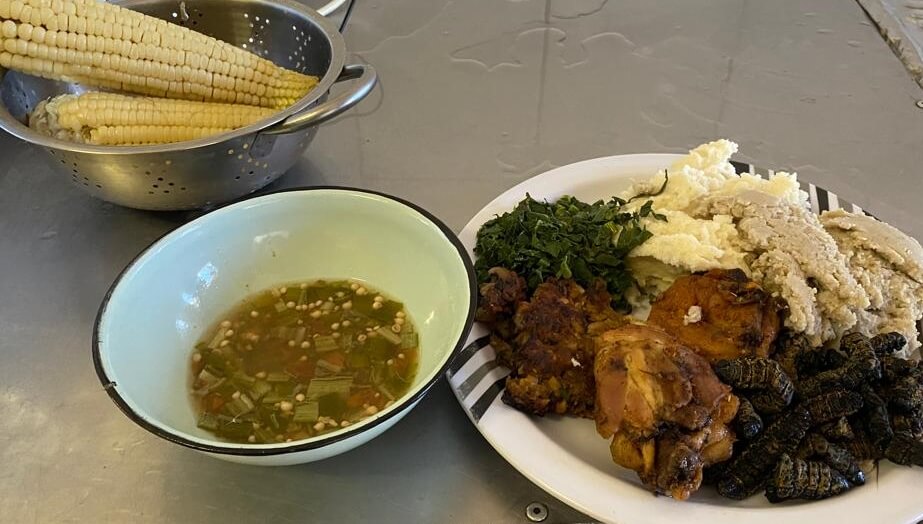 Lunch was served in the same African spirit, with sweet scents of African dishes congesting in the air. Our cooks for the day filled our bellies with nutritious kapenta, dried caterpillars (madora), sadza remhunga, and sadza rezviyo.
The afternoon activity was officially opened by a USAP alumni, Mr Brandon Bwanakocha, with his powerful and heartfelt spoken word along with a mbira performance. I can agree that Africans harbor so much talent. We had it all that day from dancing, singing, poetry and powerful skits. The traditional dance crew took us on a journey to discover the different ways in which certain dances were used for different purposes. As if this was not enough, Peniel Kabeya and company reminded us of a past culture with his entertaining jaw dropping drama. The USAPella assured us that there is indeed no other place than Africa, with the melodious remake of the song Africa by Yemi Alade and Sauti Sol.
We moved on to the African wardrobe, a stunning fashion show where students showcased different styles and patterns. The fashion show led to the intermission where students received the African drink( maheu) along with a touch of cake. The second segment of the event opened with a beautiful guitar performance by Dieudonne Makelele, followed by another spectacular performance from the mbira crew. Denzel Moyo touched our hearts with his poem,"Africa my lady, Africa my home." It got more interesting when Jepthan Chirikuutsi blew us away with his piece, "The African Drum." We did not need to hear or see more after this amazing performance. The main event came to an end but the day wasn't. The African children closed the day with their favorite African childhood games. A great way to remember the past. 

"Hakuna matata, whenever you are on African soil, embracing the African culture. Let us all be proud of our Africanism and be the lilies that blossom, wherever we go. Viva maAfrica Viva."
Written by Francis Gonah and Fadzie Chihwehwete (USAPCS '22)
Check out our YouTube video below to see some highlights from the Africa Day festivities.