USAP alumna Ntombizodwa Makuyana has been named a Cambridge Gates Scholar, with a scholarship that will fully fund her PhD in Biological Sciences at Cambridge University.  Ntombi graduated from the Barrett Honors College at Arizona State University with a BSc degree in Medicinal Biochemistry in 2019 as a MasterCard Foundation Scholar.  She is the second USAP student to earn this prestigious award, joining Charity Bhebhe, who is currently at Cambridge studying Pharmacology.
The Gates Cambridge Scholarship was established in 2000 by the Bill and Melinda Gates Foundation to the University of Cambridge. The scholarship, which has an acceptance rate of less than 1%, includes 77 people from 30 countries in the class of 2020.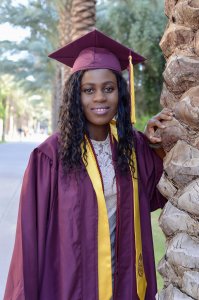 Ntombi studied for her O levels at Glen View High, after which she got a scholarship from Makomborero Zimbabwe to study for her A levels at Gateway High School in Harare.  It was there that she was accepted into the USAP program. She attests: "USAP changed my life in a tremendous way. Coming from a poverty-stricken informal settlement in the outskirts, Hopley, in Zimbabwe, it was neurosis to think of going to college, but USAP made my dream a reality. Particularly, due to worse economic conditions in Zimbabwe, most of the girls in my community are married off to offset the effects of poverty. Most of the time, it is really difficult to achieve anything in these settings, but, USAP changed the storyline."
Ntombi aspires to one day make an impact on the ailing health care system in Zimbabwe through her further studies at Cambridge: "Watching my family struggle to access medical care while being ravaged by communicable diseases such as Cholera, sparked my interest to be involved in the improvement of other's health. At Cambridge, I intend to study the human immune system to better understand the processes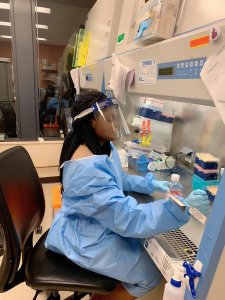 involved in fighting against diseases. An in-depth understanding of immune cellular and molecular processes could pave way for the development of drug therapies, vaccines, or low-cost point of care devices, which ultimately will lead to the cures of incurable diseases such as Alzheimer's, HIV/AIDS and other communicable diseases. My ultimate goal is to be part of the efforts to improve healthcare standards in Zimbabwe and Africa."
We are proud of Ntombi's achievements and wish her the best in this next chapter.