USAP alumnus Anesu Masakura has been elected as the Student Body President of Carleton College in Minnesota.  Anesu, majoring in Economics with a minor in Public Policy, ran a dynamic campaign under the slogan #makeCarletonhome.  Having been an active part of student government throughout his four years at college, Anesu felt running for CSA President was the best way for him to make an impact on his college community: "As cliche as it sounds, I ran for President because I wanted to make a difference. I was tired of complaining about what the college administration was or wasn't doing to enrich our Carleton experience. Having served as a student representative since my freshman year, I recognized the power and influence our student government has on campus. So, I ran to leverage this power and try to solve some of the pressing issues plaguing our community."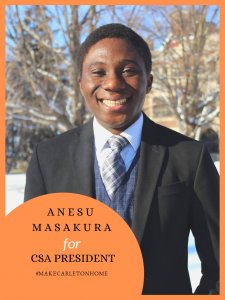 Harnessing his USAP qualities of demonstrated leadership potential and an ethos of giving, running for President has been the culmination of three years of an active campus life for Anesu.  In addition to being part of the student government since freshman year, he has also served as a campus representative for the Clinton Leadership Initiative and as a fellow for the Carleton Center for Community and Civic Engagement. Last year Anesu travelled home to Zimbabwe as a recipient of a Davis Projects for Peace grant and enabled him to initiate a social enterprise project in his home town of Sakubva, Mutare.   You can read more about his journey to Carleton and background here.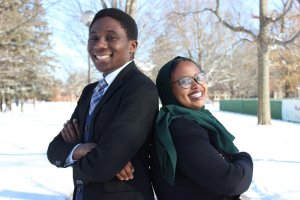 Anesu's takes up his new office at the start of the Spring Term and plans to address over the next year with his running mate, Hibo Abdi : "As President, I hope to push for stronger sexual assault prevention, education, and response; stronger mental health support that's tailored to the needs of different communities on campus; accessibility and accommodations for students with disabilities; and more campus-wide dialogue on a host of hot-button issues. This is not an exhaustive list, but it's a start. And before I even operationalize some of these policy objectives, a lot remains to be done to increase student engagement, improve our student government's efficiency, and rebrand its image as a true confluence of students' ideas, concerns, and aspirations."
We are very proud of Anesu and look forward to his future as a leader and perhaps some day a run for a Presidency of another kind.