Last weekend, February 22-24, Zimbabwean track student athletes who worked with Education Matters' Student Athlete Cohort ran and jumped at the highest collegiate D1 levels, headlining their conference championships all over the United States.
Chengetayi "Du" Mapaya, a third semester sophomore at Texas Christian University (TCU) formerly of St George's College made a massive 16,83 triple jump to not only break his own and TCU's indoor triple jump records which he had set earlier in the month, but also to break the Big 12 conference record.  As a result, Mapaya is currently ranked third in the United States and eighth in the world for the event.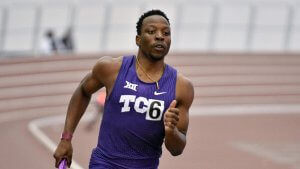 Classmate Tinotenda "Booster" Matiyenga, formerly of Prince Edward School, ran an impressive 6.72 in the 60m dash as well as a 21.07 in the 200m, which put him 6th in the very competitive Big 12 conference.  Both Mapaya and Matiyenga continue to NCAA Indoor National Championships on March 8-9 in Birmingham, Alabama.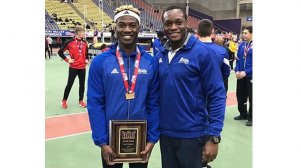 Meanwhile in the Mountain Valley Conference (MVC) Championships, Pamushana High School alum Kundai Maguranyanga studying at Drake University tore up the track or a PR of 6.78 in the 60m and a 21.00 flat in the 200m, to bring him 1st place podium finishes in both events and to earn him the Man of the Tournament award.  Coach Ngoni Makusha was very proud of both Kundai and teammate Cloud Masibhera, a Churchill old boy who jumped 15,13 in the triple jump, a PR which saw him the the MVC conference podium for a silver medal.
Studying and jumping at University of North Carolina Asheville, Victor Mathuthu who hails from Northlea High School in Bulawayo jumped 14.62 in the triple jump to earn a bronze at the Big South Conference Championships while also participating in long jump and on his team's 4x400m relay team.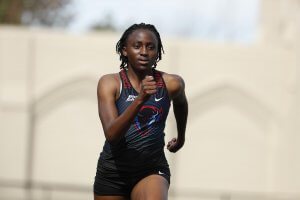 Rutendo "Chim" Chimbaru, a former Arundel School track sensation, continues to improve her performances at Depaul University in Chicago, where she is studying public health and helped Depaul's women's track team take 2nd place in their conference.  Chimbaru ran a 56,93 in the 400m to place 8th and was a key part of her teams 4x400m relay team which earned a silver medal at the Big East Conference Championships coming in at 3:42.80.
\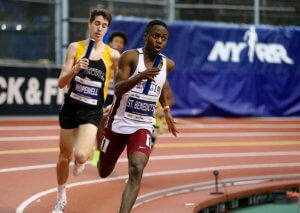 Rounding up the weekend was 17 year old 800m sensation Alfred Chawonza, formerly a St George's student who is now in his final year of high school at St Benedict in New Jersey. Chawonza, who has been gunning to run a sub-1.50 800m, nearly caught it with a PR and school record time of 1:50.57 to win the 800m at his high school state conference championships.  Chawonza will have one more chance this indoor season to reach his goal when he competes on the national high school championships next weekend.