A few months ago, the EdMatters team was fortunate enough to have Coach Khadevis Robinson or "Coach KD" stop by our peaceful garden and donate some of his precious time and more importantly, share his wisdom with some students and coaches. Coach KD is currently coaches both the men's and women's cross country teams at The Ohio State University and is also the Buckeyes assistant track coach, one of the largest athletic collegiate programs in the US. He was visiting Zimbabwe on a multifaceted tour that saw sim not only visit various institutes and exchange information, but to also spend time with prospective students and share some interesting information these students may not have heard otherwise. In collaboration with the US Embassy it was an honor to co-host Coach KD who is also a former coach of UNLV and LSU as well as an Olympian and accomplished former student-athlete in his own right.
Here are just a few gems that coach KD shared with the group: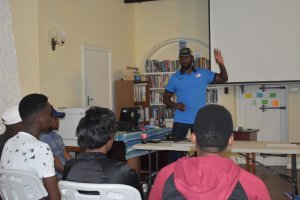 Coaches are busy people!– As much as student-athletes feel like they deserve quick and lengthy responses from coaches, the harsh truth is that many coaches, (especially head coaches) have to strike an intricate balance between day to day work on the ground, managing coaching staff and athletes, recruiting prospective students as well as their own lives. So this means that students can count themselves lucky if they hear back from a coach relatively quickly (barring the time difference) and even luckier if they receive a response at all!
If you don't hear back from a coach, don't be disheartened – Be persistent!- Just as much as coaches are busy, Coach K alluded to the fact that some coaches benefit from a benevolent nudge from students who reach out persistently. In some cases this persistence may work to your advantage and help you either establish and maintain efficient communication with a coach. However, it is also important to identify when no response is likely to mean you should move on and focus your energies on a coach who will reciprocate your interest and enthusiasm.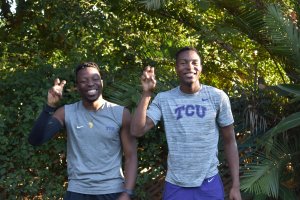 Don't expect essay responses.– Some students raised questions about communications that they had had with coaches thus far and nervously asked if some of the brief and blunt answers they got after thoughtfully crafting a lengthy email or message to coaches was normal. After pouring their hearts out in response to a question etc, some would get a simple "Ok!" or "That's nice." The advice here was simple, take the direct response for what it is- sincere, to the point and positive if the coach managed to make the time to respond! Some advice from some of our returned students was also just to be considerate of culture differences, where communication styles can vary from culture to culture and continent to continent, student-athletes are encouraged to not rely on assumptions. Instead, if unclear about an aspect of conversation- ask! As the famous Michael Jordan once said, "You miss 100% of the shots you don't take."
Fully use social media. Coach KD shared that increasingly coaches are turning to social media platforms to recruit or identify prospective student-athletes. Where most students will send out a sports CV along with a highlight reel, a carefully curated social media page and share the same information if not more. It allows the unique opportunity to put aspects of your life on display that can help forge a bond with a potential coach or exhibit your talent. Furthermore, COach KD encouraged student-athletes to use it to reach out to both coaches and current student-athletes who are attending schools of interest to you. The proverbial "sliding into dm's" comes to mind, but both Coach KD and returned student-athletes both gave the thumbs up to this tactic! So, tidy up your social media pages, post images etc that put you in a good light and highlight your strengths and if you decide to direct message a coach or student then do so politely and don't take it personally if you don't hear back or get a favorable response! 
Remember, the process of applying for a sports scholarship is a marathon, not a sprint.
For more information on the student athlete cohort please visit our website on: http://www.edmattersafrica.org/student-athlete-cohort/