Everything has its flaws and the same goes for this program too; the times we had to sleep were the worst. This meant being away from all the intriguing activities this program had lined up for us and the most beautiful people in the world from what I've come to believe to also be the most beautiful continent in the world. If I had my way, I'd have chosen to not waste any second slumbering. It coming to an end was equally as horrifying. But months after the program, I've realized that it never did end. The memories made at Tema International School in Ghana are priceless. Calling this program life-changing would be an understatement. I've had my fair share of travels and camps but none compare to this one.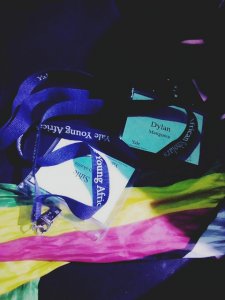 The Yale Young African Scholars Program consisted of lectures, seminars, discussions, university guidance, workshops and lots of SAT tutoring also. One might interject and say, "But that doesn't seem fun at all man." You're right. It wasn't fun. It was way more than that. How can it not be when you get to do this with CEO's of various corporations, renowned professors and lecturers, actual students from universities you've only ever heard of on your favourite TV shows and also getting to take the role of an admissions officer and going through actual college applications? We even had a cultural fair and everyone had to dance (yes, everyone!). I can't forget the life-sized chess board we had too. There was even a movie night and lots of free time every day where we could freshen up and play games (one being truth or dare, but weirder) and basically, just chill. And who can forget the talent show on the last day that America's Got Talent has nothing on? All-in-all, this made me appreciate my continent even more and it shaped the course of my life. I'm still undecided as to what I want to study at university but YYAS gave me assurance that it'll all work out and besides, now I know what a liberal arts education is. It doesn't stop there.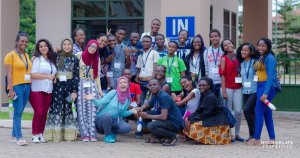 Making new friends: Dylan at the Ghana YYAS conference in 2018.
After the week-long program, as the Zimbabwean cohort, we continue to receive mentorship, attend cool camps, and get help on the SAT and our college applications. The camps are facilitated by Education Matters every school holiday. Our first camp was in early January and held at this place called Habitation of Hope which was literally in the jungle. Besides spending time petting the lions, feeding the crocodiles and having conversations with the vultures, a lot of learning occurred within the three days. From drafting CV's, to making skyscrapers out of paper, to analysing various works of Literature during the book club sessions, to having renowned guest speakers spend time with us, to having a killer yoga session, and many more activities, this camp was packed with a schedule that made sure we not only had fun but also grasped important concepts that make us grow continually.
Plus I left the camp knowing how to cook a basic meal also, so that was another plus. As a  student in transition from Howard High to African Leadership Academy, I was part of a mini-camp specifically organized for people like me in mid-March. This one was fixated on helping us navigate the year ahead before we start attending our various institutions all over the world. An introspective one, it was. We had a lot of talks from people who have been in our position and how they went through university life and how their stories could help us as we go down the same road. Additionally, we learnt how to market ourselves and be "braggadocious", search for internship opportunities and basically, how to have fun during this long period at home.
YYAS students gather around a fire with a current Dartmouth student. The program allows you to interact with Zimbabweans who are studying at various US colleges or who have already graduated.  
Then came the April camp which was by the lake at this resort called Hunyani Hills. This time, we swam with sharks and got lots of SAT prep (I kid you not, it was a lot), amongst a host of other activities. These activities included but were not limited to, tons of board games, a heated SAT-themed Family Feud and lots of blindfolding. Again, we had lots of fun (nothing surprising there). These camps brought us together as a group and are equally as amazing as the initial conference. In fact, they are the program. They help unlock doors we never knew existed. They enable us to jump off of cliffs and touch the sky.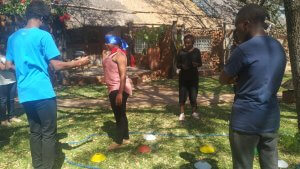 Dylan (in light blue) and his teammates help Olivia (blindfolded) navigate an obstacle course without using words. 
I wouldn't advise anyone to attend YYAS because there's no fun in merely just being there. If you're an African student in high school between fourteen and eighteen years of age, I strongly encourage you to experience YYAS. I do feel sorry for future participants of the program because the 2018 cohort was undoubtedly the best; unless of course, you're claiming you can top us. The only way to know is by taking the first step and simply applying. You don't have to be Einstein, a world record holder, the daughter of a President or even have the highest of grades (although if you are or you do, that's awesome too). You just have to be you. That's who YYAS is looking for. Take my word for it. This was one of the best things to happen in my life. Nothing compares to YYAS. What I've mentioned is just a fraction of its awesomeness and what it consists. I'll end in Xhosa by saying phupha kwaye akukho nto inokwenzekayo which translates to dream and believe that nothing is impossible.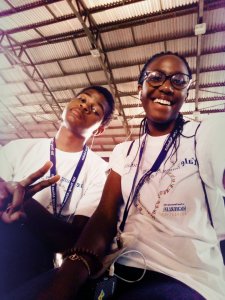 Dylan is a YYAS alum from 2018-2019. He now attends the African Leadership Academy in Johannesburg. If you'd like to experience YYAS in 2020, make sure to submit your application here before February 12, 2020.