On November 20, 2019 in Bilbao, Spain, Education Matters Director Rebecca Zeigler Mano gave the opening plenary address at the CIS Global Forum.  Below is the full text of her speech titled "Brave Spaces."
Good morning! It is an incredible frankly daunting honor to speak in front of a room full of amazing colleagues, many who have lit the path for me over the past two decades of work in our international arena. CIS, I am humbled and very grateful for this opportunity.
Every day we have a choice to make. A personal and professional choice.  
We choose whether to wake up, go to work and continue to do what we have been doing, and perhaps have been doing well, to maintain the status quo.  Or we decide it is time to make a change, one that may take herculean effort, ruffle some feathers or be more complicated and uncomfortable, but a choice which could transform a life.  We choose to carve out and inhabit a brave space.
True, it takes hard work, reflection, tenacity, but each and every one of us can make such a choice.   It is a choice that allows students from any economic background or any corner of the world to be part of our communities, our schools and colleges.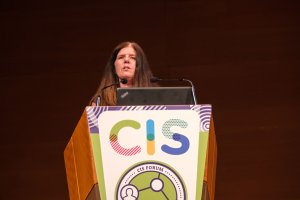 As educators, our students are the core of our work. They are our true reason for being here in Bilbao. Let's not forget them while we conference over the next few days. For those who don't know my story, these are some of my students, the USAP family – they are highly-talented, very low income Zimbabwean students, bright lights I am blessed to know who have taught me many valuable lessons.  They have persevered through difficult choices and challenges to get to where they are, and they have shown me with grace that we, international educational professionals, can do the same, no matter which bureaucracy we are a part of or in which country we work. 
My students have taught me not to take no for an answer, but parrot back to me my own words to them "if you don't apply, you can't get in."  They remind me that when the stakes are high, you make a plan and keep going. This morning I am going to unashamedly talk to you about goals of true access, real inclusion and what it means for all of us and for how we build communities in our schools and universities.  I want to share with you a few of the valuable lessons that Zimbabwean USAP students and my journey with them have taught me. 
I have learned that we need to be proactive in our work.  Whether you are an admissions officer or a school counselor, you need to go and find students where they are, both literally and figuratively, learn about their journeys and listen to how you can truly include them.  
I think of Agathe, who got on a bus from the refugee camp where she lived, with sheer faith and only half of the bus fare she needed, to come for her USAP interview.  She convinced the drivers on the overnight buses that they needed to carry her for half the fare, because this interview could change her life. Agathe slept at the bus terminus and was the first student waiting for us in Masvingo where she had never been before when we pulled up to do interviews.  She is now studying in Massachusetts.  
I think of Blossom, who would rush home each day after school to take over her sick mother's small business, that of frying small pieces of meat and intestines, a mixture called gango, to sell to the drunk patrons of a rowdy beer hall until late in the night, to make the money she needed for her school fees and exams.  Blossom is now studying in Edinburgh.  
I think of Tino, who was told at her rural girls' high school that tech is for boys, so instead downloaded manuals on her phone to teach herself how to code.  Tino is now studying Computer Science at Grinnell.
I think of Itai, who grew up herding cows and when watching his Aunt waste away from AIDS vowed that he was going to find the cure. He didn't get into any university the first time he tried, simply because of average standardized test scores, but took a gap year and rewrote them after intense study.  Itai graduated two years ago with the top award from Amherst and is now on a Rhodes Scholarship at Oxford, having already been accepted to study afterwards for an MD/PhD at Harvard as part of a team that is making headway on an AIDS vaccine. They published findings of a major breakthrough two months ago.
There are many, many USAP students each with their own remarkable stories who fill me with both inspiration and rage – I am inspired that they keep dreaming and pushing the limits.  I am enraged that too often we put up roadblocks and shut doors in their faces for what seems to be only two reasons – that they don't fuel our discount rates or increase our endowments, or that they don't match the testing profile or other attributes of our "typical" applicant.
My home where I have lived and worked for over two decades, Zimbabwe, has faced and continues to face tremendous challenges.  In USAP, we have outlawed the word problem. When a student starts to say "Mai Mano, I have a problem," I quickly remind students that whereas problems can stop us in our tracks, challenges can be overcome.  So yes, Zimbabwe has its challenges or as a friend recently quipped, living in Zimbabwe is an extreme sport. We currently have the highest inflation rate in the world, so our salaries are already worth less than one tenth of what they were at this time last year.  Imagine what it's like to fill out a CSS Profile or any financial aid form when your exchange rate changes twice a day? Our electricity is in short supply so we only have power between 11pm until 5am nightly. One admissions officer in this audience who recently visited Zimbabwe has inspired me by bringing to me at this forum the gift of solar lights for our school. Admissions officers seem to balk when I tell them that the applicant we are recommending completed her application on a smart phone using data, so please excuse formatting irregularities.  Most urban and all rural areas are without running water as it's a drought year and our doctors are currently are all on strike. Many people have told me we are crazy to build and launch a high quality boarding school in Zimbabwe at this point in her history. The USAP family believes otherwise – they are excited and fully engaged – fueled by alumni, we have raised so far over one million dollars and have another million to go, and go we will, until the school is completely built. Ask any international admissions officer who has had the pleasure of enrolling Zimbabwean students and they will agree with me that we have some of the brightest, active and most determined students you will ever meet.  
When I took the risk nearly five years ago to leave my secure job at EducationUSA in the U.S. Embassy and instead start a college access non-profit Education Matters to improve the USAP model, the first move I made was to go beyond paper applications, to go out and find the best and brightest students without options.  With my colleagues, we travel all over Zimbabwe to meet students and their families at their schools and in their homes. When the roads can't reach them, we do. In two weeks I will make another 2000+ kilometre journey with a teammate around Zimbabwe to interview the 110 finalists from 450 applications for the 45 slots in the inaugural 11th grade class of the USAP Community School. 
Another lesson – don't make assumptions. From the experience of making home visits I have learned that families everywhere, no matter whether rural or urban or what the family income or makeup, share the same concerns and have similar questions – Will my child be safe?  How often will they be able to come home? What are they going to study? Will they get a job after graduation? And do I need to pack a blanket for them to take to college?
My students have told me that college can be "a lot," that too often they feel like guests.  They are so grateful for their opportunities, their funding, the many resources they are offered and they don't feel comfortable complaining or asking for more.  Sometimes, though, they just yearn to truly be an integral part of a community, and not an invited guest to someone else's home, someone else's culture, someone else's way of being. They don't want to have their accent corrected or their name mispronounced. 
My students have taught me collaboration. We can start by building our brave space together.  In USAP, we begin by getting to know each other's backgrounds, our strengths and weaknesses, our experiences and adversities.  We tackle tasks together and learn from one another. We joke and laugh together. We eat together. We change the rules – the boys do the dishes; the girls move the furniture. We create a true family.
I tell USAP students on the first day they meet one another to look around at each other, that these will be their best friends for life.  That is what building a true cohort is about – and though they laugh nervously that first day, they always agree with me years later that it is true.  Two weeks ago, we had a USAP alum decide to challenge herself by running her first marathon, the New York Marathon. She wasn't so sure how it would go, but a dozen other USAP students and alum surprised her with signs and enthusiastic Shona singing along the route. They weren't going to have her run alone.
We need not shy away from difficult conversations.  In USAP we discuss hard topics and openly share differences of opinion. We need truly diverse perspectives and experiences on our school and college campuses.  We will only achieve such rich conversations when we recruit and enroll students from economically diverse backgrounds and then support them to feel empowered to share their opinions and their needs.
Nelson Mandela was right when he said that "Education is the most powerful weapon to change the world."   Much research backs up this statement by showing how social capital and income level is directly linked to access to higher education. When you work to offer full funding to a talented young person who has no other university option, you truly transform a life, as well as that of a family and even a whole community.  This is very different than offering a privileged student one option among a buffet of many delicious university choices. 
My students have also taught me to listen.  We need to privilege diverse international student voices and listen to them.  We handicap our students when we offer them the bare minimum of what they need to enroll in college, but not what they need to thrive. I can never quite understand if we are investing so much in a student, why we leave a glaring but relatively tiny gap in their financial aid. For example, some students work hard in on-campus jobs to cover expenses not provided for in their financial aid, like medical insurance and books, and this leaves them with no way to raise the funds needed for a plane ticket to visit home.  For those of you with your own children, can you imagine sending your child to college and then not seeing them for four years? What do you think being away so long does to a student's sense of self and identity? Wellness is on everyone in higher education's agenda these days, and it is directly linked to identity and culture, to inclusion and the ability to connect back to one's home. What if we were to push to ensure that every international student had the ability to travel home at least once during their college education?
It is important that we try to experience another's culture and immerse ourselves in it. When you travel to a new country, take time to get away from the conference or the college fair and really get to know the place – the people, their culture, their food, their values.  Challenge your recruitment agenda or travel plans to have one less country and spend more time in each place you go, getting to know the schools and even families of your students so you will more fully understand them and their contexts.
Though each of us has a crucial part to play, we are not going to solve the issue of inclusion and access to international higher education by ourselves.  USAP has taught me that the sum is always greater than its parts.  We need to work together.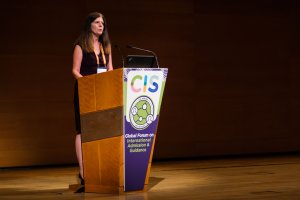 Admissions representatives and college counselors and college access organizations can form powerful alliances.  HALI Access Network is a living example. Four years ago, an admissions officer and I had the idea to get together a handful of passionate individuals, committed to working with high-achieving, low-income students on the African Continent.  From that first meeting we have evolved to be a powerful well-developed network of nearly 40 member organizations who meet annually and work constantly together to advocate for our students within the international education arena. What we have made possible together, supporting and even visiting one another, never could have happened if we had not forged an alliance. 
Celebrate the triumphs. There are so many hard days, frustrations and disappointments when others don't share the urgency with you for making change. It is easy to get discouraged. It can break one's heart to see a student not have the option to continue with school.  So take time to celebrate the victories, large or small.
And we should celebrate our students' different talents – whether getting to share our musical talent with others, as Anesu here plays the mbira for his classmates and left sciences to study his true passion for Ethnomusicology and Anthropology.   Or playing the sport which we love. Munya, who lost his leg to cancer, now plays on the Golden State Warriors' wheelchair basketball team while studying at UC Berkeley.  
Ultimately, we celebrate each of our students' graduations, as the first in their families to finish college.  Gladys, here when she graduated from Mount Holyoke, has started STEM Excel, a project to bring science education to children in the high density township where she grew up.   We constantly tell our students that we expect them to go home, not to be part of the brain drain. But I challenge you all by asking how is your school or your college supporting your students to make that smooth transition home?  What resources are you putting toward internships and career counseling options for students to return home professionally?
Take time to reflect.  We get so, so busy in our daily lives that it becomes simpler to just put one foot in front of the other and keep going on autopilot.  It is important to step back, find that quiet place and really reflect. How am I moving the needle toward that change I want to make? Who are my allies in this effort? How can I persuade those I work with that we can do what is just and right to grow our international community in meaningful ways? Such reflection is what has birthed the USAP Community School.  We are opening in two months a transformative A level boarding school in Zimbabwe for highly-talented, economically-disadvantaged students to prepare them for international educational opportunities and to assist them to return home to build society.
And to create brave spaces, we need to come together.  The CIS Forum here in Bilbao is one such gathering. May we use this opportunity to forge new alliances, to make new partnerships and to consider new possibilities.
All of us can do that one small thing to make real change in our professional ecosystem.  Whether we are from Europe or the Americas or Asia or Africa, whether we work at state-funded or private universities, at international high schools or non-profit organizations or we are independent educational consultants, we all can assist high-achieving, low-income students to find an educational path.  We can help those with the drive and the talent, but simply without the information or the resources, to continue their education. In that way, we can all be agents of change.
Every day we have a choice to make. A personal and professional choice.  We choose whether to wake up, go to work and continue to do what we have been doing, and perhaps have been doing well, to maintain the status quo.  Or we decide it is time to make a change.  
Which choice will you make?
And now, I will close with the poem that inspired this speech, Brave Spaces by Micky ScottBey Jones.
Together we will create brave space
Because there is no such thing as a "safe space"
We exist in the real world
We all carry scars and we have all caused wounds.
In this space
We seek to turn down the volume of the outside world,
We amplify voices that fight to be heard elsewhere,
We call each other to more truth and love
We have the right to start somewhere and continue to grow.
We have the responsibility to examine what we think we know.
We will not be perfect.
This space will not be perfect.
It will not always be what we wish it to be
But it will be our brave space together,
And we will work on it side by side.