It's November and that means Zimbabwe Career Connect Application season has begun!
If you are a student studying in the U.S, Canada, Ashesi and ALU consider applying for the Zimbabwe Career Connect 2018 cohort for a two month intensive professional experience in Zimbabwe coupled with peer networking and professional mentoring.
The ZCC program matches students with prominent and successful companies and organizations in Zimbabwe for a two month unpaid internship. Students are placed in different sectors which include but are not limited to engineering, public health, finance, accounting, pre-med shadowing, community development, women's activism, scientific research and computer programming. During the application season, our Zimbabwe Career Connect will be profiling organizations and companies that are a part of ZCC.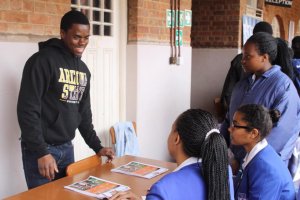 Apart from interning with their institutions, interns meet every Friday for feedback and guidance on navigating the professional workplace in Zimbabwe. Interns also represent their schools in college fairs across in Bulawayo, Harare and Mutare in conjunction with the Education USA Public Affairs Section office.
The application for the 2018 Zimbabwe Career Connect is now live on https://edma.typeform.com/to/rxkr8w. Applications will be reviewed on a rolling basis and the deadline to apply is January 19, 2018.