Imagine this scenario. I am a thick-boned, black girl standing in a break dancing formation amongst Asian boys. All eyes are on us in anticipation of a frenzy of back flips and life defying stunts. However, I have never danced in my life except for that one time at my aunt's wedding in 2012. I still cannot watch the video of that wedding routine without breaking into laughter from embarrassment. But here I was, standing on the stage in a fraternity house at the University of Pennsylvania ready to break dance  — Yes, I said BREAK DANCE! — in front of the top one percent of the school's campus.
Boom, boom, boom! That was the sound of my heart thumping.
Angela, don't be nervous, don't be scared. You're going to be okay. That was the little reassuring voice inside me.
Now give it up for the only break dancing group on campus – FREAKS OF THE BEAT!!!!!
Boo-boom, boo-boom, boo-boom!!  That was the reverberating sound of my heart pounding in my ears but I am sure that the sound of the cheers from the crowd masked the sound.
No, seriously, Angela, chill! That was me commanding myself to get rid of all of my nervousness,  but that only made it worse!
BOO-BOOM!!!! BOO-BOOM!!!! BOO-BOOM!!!!! That was the sound of my heart throbbing in my body. I could have sworn that the audience could hear it pounding, but it was now or never.
The music started playing. I squeeze my eyes tight and pretended as if I was in one of our recent practice sessions. And then I did it.  I danced! I imagined myself in the practice room. I did not look at the crowd. I just danced my heart away and it was when the routine was finished that I glanced up and saw a cheering crowd clapping their hands and smiling. I was so happy. I felt so giddily relieved. I knew that they were cheering for our dance crew President who had just done a triple back flip, but I was caught in the glory too, adrenaline surging through my veins, by virtue of being there on the stage with him. It felt good. For that moment, I felt like a star!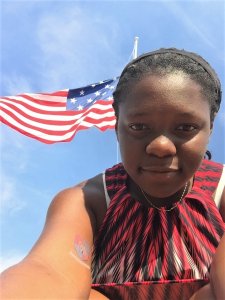 Such is a single experience out of a multitude that I will have in my American Story.  I've decided to take positive risks.  Why not?  You never know what you can do, what stereotypes you can smash, what heights you can reach, if you don't try.
Angela Kumirai is a first year USAP student at the University of Pennsylvania who hails from Gweru and attended Fletcher High School.