We've got great news: Rise is extending the application deadline! If you haven't finished your application, or would like to start one, now is your chance! Submit Part I of your application by February 10th for the opportunity to receive a lifetime of benefits! This first part of the application process involves recording selfie videos and only takes 30 minutes.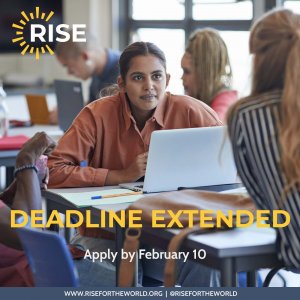 At Education Matters, we're excited to be working with Schmidt Futures and the Rhodes Trust to spread the word about Rise, a new global program funded as part of a $1 billion philanthropic commitment to talent from Eric and Wendy Schmidt.
Rise is on a mission to find extraordinary young people and support them for life as they use their talents to build a better world. Specifically, Rise is looking for brilliant 15-17 year olds, from anywhere in the world, with great talents and potential. They could be passionate about art, science, community organizing—or any other discipline. The program looks for brilliance, integrity, empathy, and perseverance—not just test scores or grades.
Everyone who applies will join a global community of future leaders from more than 150 countries around the world. They'll meet peers, take free online courses, and access new opportunities from the Rise network of partners. In July 2021, Rise will announce 100 Global Winners and provide them with access to a lifetime of benefits as they work to serve others. Rise benefits could exceed USD 500,000 for every Global Winner over the course of their lifetime, depending on need, making this one of the largest scholarship programs—if not the largest—in the world. Winners will also attend a residential summit (details to be announced), receive need-based financial support for education and internships, and have access to funding to scale up their social impact throughout their careers.
To start an application, click on this unique link using your mobile phone to download the Hello World – Rise app: Rise App Download. You can also apply through WhatsApp by sending a WhatsApp message saying "Hello" to +1-989-582-1582. To complete the application through WhatsApp you will need to select the option "Other" in regards to what type of phone you will be using. Selecting "Android" or "iPhone" will direct you to download the app. To request a paper application email rise@edmattersafrica.org.
If you know a 15–17-year-old who would be a great candidate for Rise, nominate them for Rise here.
Please contact the Rise Zimbabwe Team at rise@edmattersafrica.org or email the Rise Global Team at rise@risefortheworld.org with any questions. More information is also available at the Education Matters office in Harare located at 23 Connaught Road, Avondale, Harare, Zimbabwe (WhatsApp +263-784642786).