Summer 2019, my first in Boston. From meeting new people as well as building on the foundations of professional and personal relationships I have cultivated over the past two years, to seeing my favorite artists play in Boston, the experience was more than I thought it would be. Although I am sad that the summer is slowly fading away into memories which Google photos will take pride in reminding me of every year, I am excited for the upcoming year because I have newfound source of motivation for my studies. My favorite person decided to do this school thing with me and I am beyond proud of her decision.
My mom recently decided to go back and pursue her Bachelor's degree at Midlands State University with a focus on Education and Fashion. She is currently learning how to design clothes while developing her skills as a high school educator. Five years ago, she first shared with me her desire to go back to school to earn a Bachelor's and I have watched her plan her move over time, with the occasional joke or two. Almost three years ago when I received the college acceptance letter from Wellesley College while sitting with her on my bed on a late December afternoon, she gave me a hug, congratulated me, said a short prayer of thanks.  She then turned to me and said, "In two years, when your brother goes to high school I will go back to school and we can earn our degrees at the same time."
"Two years you've been saying this," I chuckled. "I'll ask you two years from now and we'll see."
I didn't ask her at the beginning of the year, but she never forgot her pledge. She declared this next chapter of her life via WhatsApp in mid-July this summer and I thought for a second that she was joking. But, the pictures of designs she draws from scratch have shown me that she is indeed pursuing her degree.
"I told you we would graduate at the same time," she joked during one of our calls. "Right after your graduation in May 2021, you should come back for mine in June."
Nothing inspires me more than seeing my mom pursue a dream she has been planning out for years with the quiet superhuman strength she displays daily without expecting anything in return. With me in college and with my brother off to boarding school, she has finally found the time and resources to enable her to actualize what she has dreamed of for the longest time. I am filled with gratitude whenever she tells me she has too many assignments, not only because I relate, but also because of the infectious enthusiasm she has towards her work. Seeing her work also makes me want to work harder so she can be proud of me just as I am proud of her.
I'll be honest. I was not at all excited for my junior year before July. I wasn't sure if the major I've chosen is the right one, if I will be able to survive another New England winter or if I wanted to be here for this year at all. I had so many questions and felt like I didn't have the answers, nor was I getting the ones I needed. This feels like my halfway point through my undergraduate experience and I still think I don't have it figured out. However, seeing my mom balance school, work, family and a social life put things in perspective and I began reflecting on the steps which led her here because I also want some of what she's done. This is what I came up with: 
Setting Goals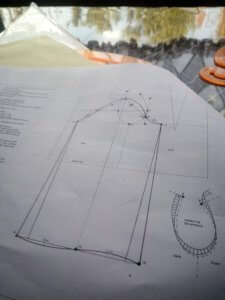 My mother keeps a record of some her goals by sharing them with me and asking how they've evolved over time as she continues to share. I oscillate between writing clear, detailed two-page thoughts in my journal or just one word in my Notes application on my phone, but I've found that it doesn't matter because the plan is where it's at. Writing the goals puts them at the forefront of my brain which means all my plans factor in the goals I have made. Acknowledging my goals helps me take the first step to realizing them.
If one version of a plan does not work out, you may have to explore different paths to my goal.
From the way my mother always talked about getting that degree, I'm sure my mom planned on getting her Bachelor's earlier in her life, but her plans changed to accommodate changing factors as she grew. Most factors do not stay constant and gifting myself the ability to adjust and adapt has mostly worked in my favor in the past; your present self thanks my past self for that. 
It's great to have time specific goals, but it's also fine if my goals take longer.
People gain experience at different paces, and it's not fair for me to measure my process against the pursuits of other people. I may achieve what I set out to do in a week or two years and that's fine; what matters is what I learn as I get it done. 
Remember to be kind to yourself and to be patient with the process.
I have never felt like my mom resented her family or her career as a primary school teacher while she planned out her path to university because she always approached everything with love and kindness. It may be frustrating to run into a few detours but the key, I've learned, is to managing that frustration while maintaining a kind and patient relationship with myself and with those around me. 
Thanks to my mom, summer 2019 has been about rediscovering an enthusiasm for absorbing information and thinking about it critically, while finding the little things to make the process more enjoyable. I don't have all the answers still but I have my mom to look up to. I think that should make it easier but time will tell.
Nokukhanya Victoria Ncube is a USAP alum who is beginning her junior year at Wellesley.  She shares quarterly updates with us in her Check In blog series.