USAP alumnus Terrens Muradzikwa was honored today (25 November 2017) to be awarded the sole Rhodes Scholarship in Zimbabwe this year to study at Oxford University starting in 2018.  Terrens, currently a final year Economics student at Harvard College in Massachusetts, hails from Mutare.  He attended Marist Nyanga High School when he was recruited into USAP, where he wrote 5 A Levels and obtained 25 points.
Researching with a professor at the Harvard Business School, Terrens has studied how disruptive innovation can be used to spur economic growth in developing countries.  He has worked on two fast-growing digital startups –The African Exponent and Shasha Network. His current research interests are focused on the impact of natural resources on employment and fertility rates in Africa.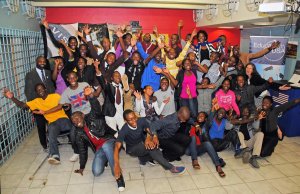 Terrens cites USAP as playing a greater role in his life than simply a source of information on applying to college: "Being part of USAP has been a transformative experience that has motivated me to actively contribute to solving challenges that young people face in Zimbabwe and in the entire world.  Along the way, I have met lifelong USAP brothers and sisters who are very supportive and continue to challenge me to be a better global citizen."
Passionate about giving a voice to young people and about delivering universal education to children in Africa, Terrens plans to pursue an MSc in Economics for Development and a Master of Public Policy (MPP) at Oxford.  After graduation, he hopes to contribute in a meaningful way to the economic and democratic turn-around of Zimbabwe.
A second USAP alum, Itai Muzhingi, who is a senior studying Biochemistry-Biophysics and Mathematics at Amherst College, was also selected as one of the ten Rhodes finalists.  Last year, both Rhodes Scholars, Lilian Dube and Ngoni Mugwisi ,were also USAP alumni. Zimbabwean Rhodes Scholars are selected on the basis of their intellect, character, leadership and commitment to service to join approximately 80 other Rhodes Scholars from around the world at the University of Oxford. Established in 1903, the Rhodes is the oldest and perhaps most prestigious international graduate scholarship program in the world.
We are extremely proud of these talented USAP alumni and their achievements. They remind us that Zimbabwe's future is indeed bright.