7.30am! I place my phone back onto the table, a bit frustrated by the fact that I am up 45 minutes too early. I also know it won't help trying to force myself back to sleep because my mind's whispering all the mandatory tasks on my planner. I try forcing myself to sleep anyway. As you may have guessed, my mind's voice grows louder, so eventually I get up.
On my way to class, one squirrel stops momentarily, eyeing me, as if to bid me luck and then disappears from the path. It's one of the "squirrel-amusement" episodes I get every day. After all, squirrels, who don't exist in my home country of Zimbabwe, own their share of Penn and Philly. A share that my 17 year old self could not have. And I know if I had the time, I'd set an appointment (because that's how it works here) with my 17 year old self to reflect on how unlike her, the current me is not a morning person. How she is amazing at Physics and the current me… could improve. How she didn't need a planner to stay organized during A level studies and the current me clearly does.
Coming here to UPenn, the way I relate to people has changed significantly. For four years, I'd lived, survived and to an extent thrived at Regina Mundi Girls High School where virtually everyone meant something to me. Mostly just "for the record". I had a bunkee, deskee, dushkee, sidee, closie, bestie, homie, twinnie, schoolie and even enemie, just to name a few. Of course, I knew that would not be the case here. From what I had heard about American culture, I did expect people to be somewhat shallow or seemingly distant. Even so, it still is so much pressure for me to really pretend I don't know someone when we cross paths on Locust Walk.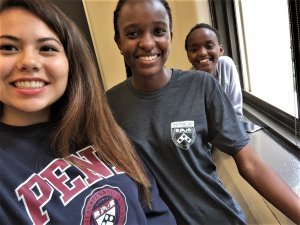 But not everyone is distant. "I know Zimbabweans at Penn – you are this unbreakable community!" a Hispanic sophomore told me. Alongside the Africans who are close, there are also Americans who actually have concern, but often it is only because it is their job to ensure we are all okay. There are also people who really want to help. You'll often hear, I got you! from a random Penn student or staff member when they offer that help. And I've been in the habit of saying it too when I give people directions or show them how to operate certain things. Apparently, not everyone has everything figured out here too – race or gender doesn't always determine how much you struggle. Also, actions that would have normally called for a disciplinary action in Zimbabwe, I'm only told no you're good or you're fine. Really? Really. It's more complicated though if it's a deadline you missed. You missed it, therefore you'll face the consequences. "Ideally", since I came to the US, almost every day is a deadline.
On a different note, I was surprised by how more often than not Americans prefer to sit crossing their legs, the yoga way. Most people at Penn love coffee and they love it very strong. You will see adults eating cookies and donuts, food seen as made for kids in Zimbabwe. What I find particularly humbling is how it is considered very normal for adults to sit on the floor at an event where there is an unforeseen large turn up of people. In addition, being in America doesn't mean everything automatically becomes convenient for you. People work extremely hard in order to earn a good living.
In this incredibly fast-paced life, it is easy to get overwhelmed. Today I literally feel myself walk while leaning forward from a burdened heart. But I know, I'm just beginning. And when I do meet with my 17 year old self again, I want her not worry about the fact that I have not decided yet on the engineering degree, job, or place to work in mind for 22 year old me. What I want her to find reassuring is how much I am fortunate enough to be growing in character with each new experience and each new day.
Nyasha Zimunhu attended Goromonzi High School and is now a first year Engineering student at the University of Pennsylvania.