"Wow, this is actually very beautiful…." I whispered to myself in disbelief as I sat there staring at the captivating sunset over Lake Chivero. The sun was a soft burnt orange, and looking at it made it hard for me to believe that that was the same sun that had blazed hot at midday, and even with dark glasses on, one still hadn't been able to look at it. Now, there it was, with a tender yet majestic glow, with the water glistening in harmony to it.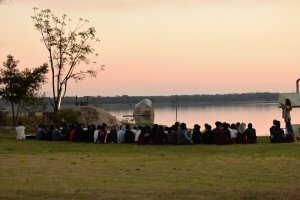 When I heard that we will be watching the sunset every day at camp, I was glad only because it meant time to sit and rest, not run around trying to sort out my college application issues. I really didn't think I'd actually care about watching the sun itself. Growing up in a busy world, trying to juggle school and family responsibilities didn't leave time for admiring nature, especially things such as sunsets.  To me they had always seemed like a waste of time. However, when I finally sat and actually enjoyed the sunset seriously for the first time in my life, it really struck me how beautiful it was. Just sitting there not doing anything but gazing and being mindful, made me feel such a peace I had never experienced. I felt like all along I had missed out, having been too busy to appreciate all the free gifts I can't put a price tag on, that God has given us.  As I sat watching the golden orb descend over the water, I recalled many episodes of my life, but failed to find one that had struck me in the same way the sunset was.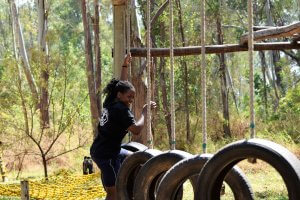 It also occurred to me how I had failed to appreciate many other gifts I had gotten for free. The jokes we shared over simple meals, the hearty laughs we had as the USAP family as we watched the naughty monkeys that scrambled for banana peels, even the heated discussions I had with my group mates. I appreciated all those moments of our weeklong USAP bootcamp, but the part I looked forward to the most became the daily sunsets.
It amuses me now, that all it took for me to learn how to be really grateful for all the free gifts I have in life, was simply watching the sunset mindfully.
Chenai Mangachena is a USAP student who attended Mufakose 2 High School for O level and currently studies A level at Hellenic Academy on a Makomborero Scholarship. 
Photos: Collence Nyazenga