The Yale Young African Scholars program (YYAS) is a seven-day, residential program for African secondary school students currently enrolled in high school on the African continent. YYAS is designed for students who will graduate from secondary school in 2018 are 18 years or younger at the time of the program (L6 in 2017 in Zimbabwe), and have the talent, drive, energy, and ideas to make meaningful impacts as young leaders. (http://africanscholars.yale.edu/program-overview)
YYAS is a student programme that brings together talented, passionate young African students (Lower Sixes) from all over Africa to be part of an intense week of lectures, discussions, seminars and workshops. These students gather in Rwanda, Ghana and our very own Zimbabwe.
Applications for this programme are now open and if you're still debating whether you should apply to YYAS, allow me to help you make up your mind with…
Ten Reasons Why YOU Should Apply to YYAS
Meet interesting young people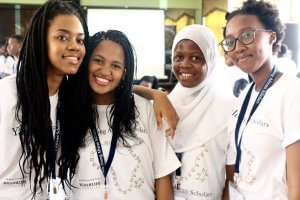 YYAS takes place in three countries in Africa each year – Mauritius, Ghana, and Rwanda in 2017 – and students come from all over the continent to take part. Past YYAS alum say that getting to know other young people's stories that challenge their thinking and open their eyes to the diversity of Africa's young people (often surprising them with common passions and interests) is the best part of the YYAS experience. In just one week students make friendships and connections that last years, and keeping in touch as they leave home and go to university creates a global support network of African students.
On-going support
This year, YYAS has added an extra, super valuable component. As well as this incredible (life-changing…?) week, you will have year-long support as you go through your Upper Six year and apply to university. This will take the form of frequent online communication through email, Facebook and Whatsapp, but also will include a 2-3 day workshop every holiday to advise and guide you through your final year and particularly though the university application process (which is quite a daunting procedure for the United States).
Learn from experts about U.S. universities
Staff and students from Yale University, as well as admissions counsellors from top universities (this year we had counsellors from Brown University, Michigan State University and University of Pennsylvania) will advise students on the vast array of institutions in the United States, different aspects of the application process, and what they might except from going to attending there. The chance to hear lectures, but also to interact informally throughout the week with so many expert and knowledgeable people is an amazing opportunity.
Help with applications
During the week, you'll get an introduction to the United States university application process (it's a little crazy) and learn about the different aspects of it. You'll also get teaching and guidance on the standardised tests you'll have to take, such as the ACT or SAT, and how to choose which one is best for you. You'll even be given access to a huge database of recourses and an individualised study plan to help you prepare. After the week, you'll receive on-going support and guidance as you complete your applications.
Experience a taste of college life
YYAS weeks are held on school/college campuses. You'll stay in dorms and eat in dining rooms. You'll be living with people who are not your family whom you don't know very well, and your days will be full of in-depth lectures, formal and informal teaching, firey discussions and snatches of chilled hang out. This is U.S. college life. (Pretty much.)
Interact with Yale students
The team who runs the YYAS week is made up of Yale staff and current Yale students. Living with and getting to know Yale students (who will be your small group leaders) is a unique and really valuable experience. These students are passionate young people with lots of perspectives to share, and the chance to get such an in-depth, first-hand account of U.S. college life is one that few African students will get.
Learn from Admissions Officers and Yale staff
Admissions Officers from top universities and Yale staff make up the rest of the team. These professional, highly experienced university staff will share their knowledge and experience with you, too.
Have a life changing experience
Although I've heard about YYAS for the last few years, I only learnt this year what it was really about when I had the opportunity to meet the staff who run it and the students who were part of the 2016 group.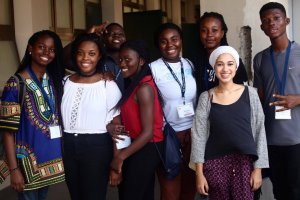 I was mainly involved in the Educators' Conference, so my first opportunity to interact with the student conference was on the final afternoon when I met the Zimbabwean students who were in the programme. These were the students I would be working with and mentoring for the next year, and I had thirty minutes with them to introduce myself, get some contact information from them and let them know that I would be communicating with them throughout the year. As we went around the room and they all shared the highlight of the week was one student said, "This was the best week of my life. It was life-changing." That was the moment that I realised that YYAS does something special and unique in Africa. It brings together passionate, talented African youth, equips them with knowledge, exposes them to other people and ideas, and inspires them to dream big for Africa.
Past YYAS Students don't lie
When I asked students what was the best part of their YYAS experience or how they would describe it, most of them talked about the amazing interaction with fellow African students: the relationships they made, the stories they heard, the ideas they were challenged and inspired by.
Here are some of their own words:
"…such a diverse group of people all different from each other but all working towards a shared goal, this was truly inspiring" – Almira
"[the people I met] have shown me the vast potential and desire within to assit my Africa to be great again" – Tanaka
"The best part was meeting such diverse people from all over the continent who radiate such passion and determination to make Africa into a better place" – Katrina
"The best part was learning from and hearing about everyone's stories, from the other students, the Yale staff and the lecturers. Many stories were eye opening and challenged my own beliefs." – Elsabe
"I've built lasting friendships from this experience" – Fadzai
"The best part of YYAS was becoming part of a network of people who are passionate in their various fields and determined to make Africa a better place for future generations" – Keratiloe
"Best part – the discussions" – Panashe
"The exposure to America's university lifestyle from the application to the life after was really amazing" – Kimberly
"I would never trade such an experience for the world" – Kimberly
"It'd be good to go because of the exposure you get to American universities and it's such a valuable learning experience that you won't forget." – Rumbidzo
"Best part was making new friendships and meeting people from all over Africa." – Teresa
"… the best part about YYAS for me was that I was given a chance to challenge limits I had set for myself" – Evans
"…during YYAS I learnt a new way of thinking which has made me believe that I can do anything if only I try" – Evans
Great food
Okay, I just needed to come up with a number 10, but, actually, the food is pretty great!
So, if you will be in Lower Six next year, 2017, and are thinking about going to university in the United States, if you love being stretched and want to push yourself out of your comfort zone, if you're ready to meet friends and people from all over Africa, and you want, in the words of YYAS alum, an
"amazing
adventurous
educational
eye-opening
unforgettable
enriching
inspiring
memorable
lively
inspiring
stimulating
daring
incredible
diverse"
experience… this programme is for you.
Apply here: https://apply.globalscholars.yale.edu/apply/
You'll need to fill out an application, get a teacher to write you a recommendation, and answer an essay question. Don't hesitate to ask questions about the process! Then that's it. From there you'll have the chance of a free week of life-changing experiences.