My host's living room. It is three days after my first white Christmas. The snow just won't melt because of the below freezing conditions we have been experiencing for a few days after the snow fell. The sun trickles in through the windows which makes me smile. It is so sunny yet so cold. I do not dare go outside in such cold weather. Then it strikes me that this is how I have been feeling since October. "I won't dare to go outside today," has become a mantra that I have been singing for a while now. Of course, it is cold, but I also know it's just an excuse. Here's why.
Netflix. If you remember my last check-in, I was happy to have gotten the chance to take a break and watch my favorite show. I told myself that initially, which was true. It was also the Fall semester break, so I thought I at least deserved a respite from books. After Fall break, I returned to my books as usual. Whenever I had free time, I would go back to my room and continue with my show. I finished that show which led to another which I finished and made way for another. As it got colder, I found myself spending more time indoors, but not around people. I rarely talked to my roommates or made contact with the environment outside of my room except when I had to shower or eat or go to class. Whenever I had to read, I would find a quiet spot in the library away from all the noise. I would go and eat in the dining hall when it was quietest. I would sit at the back of the class if possible and refrain from raising my hand to ask about things or contribute to discussions. I would jam my earphones into my ears to avoid talking to people. I took some time off of WhatsApp, but was spending more time on Facebook, Twitter and Instagram. I was getting obscenely few hours of sleep.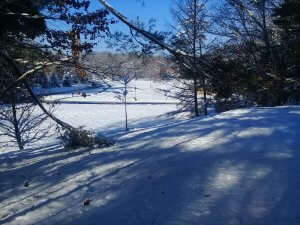 The first snow. A Saturday. While one of my roommates was very excited for it on Friday night, and all I could think of was how cold it would be after the snowfall. I went to the library to finish a paper that was due that Monday. It was surprisingly warm as I walked from my room to the library. I sat down to write my paper and only looked out the window one hour into my work to take a break. The beauty took my breath away, as clichéd as it might sound. I could not bring myself to even take pictures because I wanted to remember what that moment felt like without digitally documenting it. I finished my paper and stepped into the mind-numbing cold, but for once it did not bother me. I was too struck by the beauty to even be excited by the prospect of me being in a region with snow. My friend Shukri, on the other hand was unbelievably excited. She was snapchatting all the way to the dining hall and could not believe her eyes. After we had lunch, I went back to my room and spent the rest of the day on Netflix as a treat for finishing my paper. It was only the day after that I felt excited enough to snap pictures of the snow and splash them all over my WhatsApp status.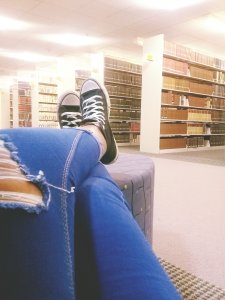 End of my first semester at Wellesley. I turned in my final papers early. I only had one final exam which I took on the earliest possible date. I had too much time on my hands. I had time to reflect and think. But I did not. Because it hurt too much to think that I would be here over the break as people went back to their homes to celebrate holidays with their families, while I would be here "on my own". I found knitting material in the library one day and sat down to "destress". I do not remember ever learning how to knit or even taking an interest in it, but after two hours of sitting there, the product was not half as bad as I had expected it to be. I was forced to face the reality of my first semester as I sat there, knitting.
I was running. For four months I was running. I was running from the fact that I was not the best thing that Wellesley had ever seen. I was running from the fact that although I thought my English was good, a lot of people still asked me to "Say that again". I was running from embracing the fact that I missed home too much and talking to my friends and family made me feel like I was missing out. I was running from feeling like I was a stranger in America, but more so to my friends and family with each passing day. I was running from acknowledging that I did not know how to navigate the system in America. I was running away from all of this by burying myself in Netflix and my schoolwork, without dedicating any time to fostering new relationships and maintaining old ones. I was running from accepting that my life as I knew it would never be the same again and I had to make changes accordingly.
I have never been one to really make New Year's resolutions and want to stick to them, but I think that is one of the changes I want to usher into my life in 2018. I will not go big either because I am just starting out in this game, so baby steps. I do not have a list yet. I still have not mastered the art of planning ahead, but I know one thing is going to be there for sure. I want to learn how to embrace and accept. People, situations, feelings, emotions, you name it. I want to stop ignoring concepts which my mind cannot comprehend but rather take steps to learn more about them and understand where they are coming from. As 2018 rolls out, I probably will reveal how things have been going in this respect or how I am doing with my other resolutions.
But for now, baby steps.
Nokukhanya is a first year student at Wellesley College who hails from Bulawayo and attended John Tallach High School.