It's not enough to get straight A's in high school, write SATs and college essays, jet off to America and never look back. At some point in time, that's all the USAP program looked like to me; a get-away ticket. I'd spent hours pouring over the USAPGLOBAL website as I searched for American colleges to apply to. The profiles of the students were often just the bare bones. A snapshot to inspire the 17 or 18 year-old planning on applying to American Universities. USAPiens or USAPers as some called them, were just a group of intelligent people who inspired teenagers to look up and beyond. But what about me? The girl who had no clue what to study in college. What about you? The person halfway through college in the U.S and struggling to find inspiration and information about viable opportunities back home? What about the recent graduate who had wild dreams about coming home and starting that tech business?
This year's USAP Forum held at Chengeta Lodge in Zimbabwe was the spice missing in my life. Held under the theme: "Coming Home!" the forum was a lavish affair with countries such as Malawi, Uganda and Zimbabwe represented. The forum brought together members of the range of USAP family members, from the very first cohort of 1999-2000 to  other "youthies" of the classes of 2012 to 2015. It was amazing for me to rub shoulders with the people I had spent hours reading online about such as the founder of Girl Child Network Uganda: Memory Bandera and founder of UNTU the capital investment firm: Clive Msipa.
It's not enough to look up to someone, but never strike a humane conversation with him or her about issues far from the well-publicized success story. I felt like I had the latest scoop, listening to big minds elaborate on challenges they faced making a difference back on the Continent and most importantly, their intricate life stories.  The Forum was a true coming home experience for me.
Yes we had a game drive, braaied all night and danced till the wee hours of the morning.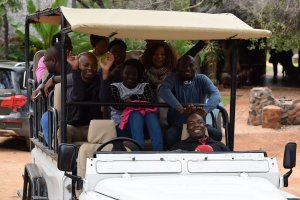 Those are tiny elements of the whole experience. What stood out the most to me was the heated discussions we had on creating an alumnae council that will foster the spirit of mentorship which I felt was lacking. I left the Forum with a fired up passion to achieve my goals and to mentor others to achieve theirs.  I came home with an appreciation of the success stories which focus on challenges endured and lessons learned, that focus on the journey and not only the destination of success itself.
Written by Michaellah Mapotaringa, USAP student on her way to Yale University in August