July 20 was the last session of the two month Level Up College Counselors' Course that Education Matters held this term for counselors from local schools to learn about the processes of assisting students to apply to colleges and universities in the United States. Below are the reflections of one of the participants, Ms. Elysium Gwashavanhu, the Careers and Guidance Counselors for Eaglesvale School.  The course met weekly during the second term and included seven career counselors.
"I feel highly favored to have been part of the Level Up College Counseling Course. Every time I came from a session, I felt so fired up to talk with my students and give them newly-learnt valuable information on applying to universities overseas.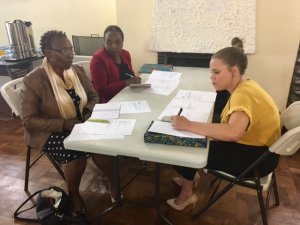 I learnt all about the holistic approach to admissions. My eyes were opened when we met with admissions officers from liberal arts colleges in America, especially from the interaction we had with them and the question and answers sessions. The topics on Sports Scholarships and on Applying For Financial Aid equipped me so much that now I know what to tell the students when they ask how to apply for scholarships.
My high school was able to come up with an effective school profile that is being used right now to add context to our students' applications.  The teacher and counselor recommendations have been a thorny issue for a while for us. Thanks to the sessions and exercises we had on this topic, now collecting information on students and writing of recommendations is going to be done on time and much more effectively.
As a result of Level Up, my goal is to guide the students from as early as O level and collect as much information about them as I can. When the time comes for them to choose universities and courses of study, I will be able to guide them in their selection and write comprehensive and effective recommendations. I will also be in a position to guide them on possible career paths and how to use university as a stepping stone to those careers. In terms of my role as a college counselor, I have gone a level up!"