St George's College student Chengetayi Mapaya, exceeded all expectations this weekend, with a massive 16.01 metre triple jump to win gold at the Southern Region Senior Track and Field Championships held at the National Sports Stadium.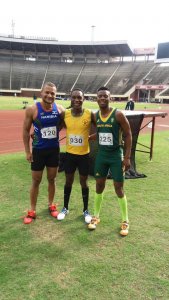 Mapaya's 16+ metre jump landed him gold, defeating a Namibian jumper who landed silver after a jump of 15.98.  The bronze went to a jumper from South Africa who jumped 15.54.  The Championships included top senior athletes from ten Southern African countries, namely Botswana, Lesotho, Malawi, Mauritius, Mozambique, Namibia, Seychelles, South Africa, Swaziland, Zambia and Zimbabwe.
It is indeed rare for a high school athlete to reach 16 metres in the triple jump, a distance that would currently rank him #14 among college athletes in the United States.  Mapaya, who has been jumping 15+ metres consistently this year, had this to say about his great achievement: "Honestly, I am very shocked and very happy.  I still can't believe I have jumped 16 metres. I feel inspired that there really are no limits now that I have reached a distance I couldn't have imagined possible before.  What's stopping me now from jumping even farther?"
Mapaya, a member of the current Education Matters' Student Athlete Cohort, has signed and committed to attending Texas Christian University (TCU) on a full scholarship starting in January 2018.